When it comes to the 2020 election season, the Grateful Dead said it best: "What a long, strange trip it's been."
From the jam-packed Democratic primaries that fielded more than 25 candidates to the campaign trail transformed by a global pandemic, nothing about the run-up to November 3rd has seemed normal. Gone were the whistle stops at State Fairs, informal meet-and-greets with candidates at the local diner and the always-charming baby-kissing moments on the campaign trail.
One aspect, however, didn't disappear—media coverage. That's what inspired our 2020 U.S. Political Tracker, powered by Nexis Newsdesk™. Designed to look into both the races and the issues of this year's election, the Political Tracker automatically scans a vast collection of news articles and blog posts with built in analytics that help to filter out the noise to uncover insights faster. Let's look at what the media monitoring and analysis tells us.
Hot topics among the candidates
Heading up our Political Tracker is a chart that identifies volume of mentions on 17 issues among presidential candidates. As you can see from the screenshot below, three topics have dominated:
COVID-19
Racial Issues
Taxes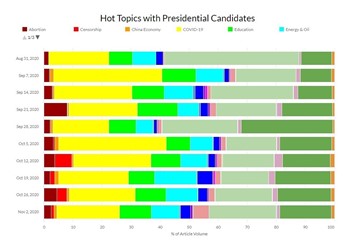 Some other issues waxed and waned based on other timely news.
The issue of Abortion saw several jumps in coverage aligned to the death of Associate Justice of the Supreme Court of the United States Ruth Bader Ginsburg and the subsequent nomination, confirmation hearings and vote to fill the vacancy.
Censorship saw a slight boost in coverage when Twitter and Facebook announced more steps being implemented to stop the spread of election misinformation.
That's where the built-in analytics in Nexis Newsdesk deliver measurable value. You can quickly drill down to the articles behind these visualizations, allowing you to quickly understand what's driving article volume or sentiment—whether you're tracking what's being said about your own brand, your competitors, or a topic of interest. And because we aggregate sources from international, national, regional, and local media organizations and platforms, you can capture a comprehensive picture, then filter down to what matters most to your business.
Media analysis of ballot measures
Some of our media analysis in the Political Tracker focused on issues that voters would be deciding. Several states had the issue of medical or recreational marijuana on the ballot. Sentiment tracking reflected primarily positive coverage on the issue. No surprise, then that four states—Arizona, Montana, New Jersey, and South Dakota—approved legalizing marijuana for personal use and Mississippi and South Dakota voters approved legalizing marijuana for medical use.

Oregon was the lone state with negative sentiment, but a quick glance at the articles behind the analytics provides insight. This week, Oregonians—who led the nation in approving medical marijuana in 1998 and who subsequently approved recreational marijuana in 2014—approved a controversial measure that decriminalizes possession of small amounts of hard drugs like heroine, cocaine, and methamphetamines and reduces penalties for possession of larger amounts. The intent of the measure is to reduce arrests and incarceration for non-violent drug offenses. The measure also establishes the use of marijuana sales tax revenues to make addiction treatment more widely available. The effectiveness of this approach remains to be seen, which further explains the negative sentiment around the ballot measure.
Check out the Political Tracker to look at other ballot measures including a constitutional amendment in Nevada to recognize marriage as between couples regardless of gender (passed), a referendum on the redesign of the state flag in Mississippi to eliminate (passed with a 72% approval rating), sports gambling initiatives in Maryland and South Dakota (passed in both states) and two ballot measures on abortion restrictions (defeated in Colorado and approved in Louisiana).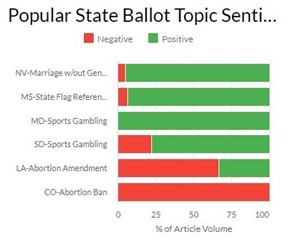 Republican candidates received more media coverage overall
Deeper analysis by our Media Intelligence Research and Analytics team found that Republican candidates generated 2.2 times more coverage than their Democratic opponents, with only one exception among the races we tracked.
Of course, there are still a few BIG questions outstanding in the 2020 Election results, but our Political Tracker reveals some interesting insights into this year's campaign season. Curious about what insights you might gain from media monitoring and analytics with Nexis Newsdesk? Take it for a spin with a free trial.