Analyzing Traditional Media Coverage Shows Food Delivery Services Were Piping Hot During the Pandemic
06 July 2021 12:30
In May 2021, the Business of Apps reported on food delivery app revenue and usage, noting that "COVID-19 has propelled the industry a few years into the future, as millions of people in lockdown ordered food online for the first time." Not surprisingly, the report also cited soaring revenue for these brands—from $22B in 2019 to $26.5B in 2020. The accelerating popularity of the big three in the US—DoorDash, Uber Eats and Grubhub—did not go unnoticed by traditional media coverage. So, the Nexis® Media Intelligence, Research & Analytics (MIRA) team cooked up the idea of creating an infographic to reveal other types of insights waiting to be discovered with our media monitoring tool, Nexis Newsdesk®.
Fresh insights, delivered with a powerful media monitoring tool
The MIRA team started off by setting up keyword searches for each delivery app brand and analyzing compiled coverage within our premium collection of US-based media sources. The analysis looked at 20 months of traditional media coverage—print, broadcast and web-based content—beginning in September 2019 through April 2021.
One clear advantage of rests with the built-in analytics. Once you've created and saved your search, you can pull those saved searches into the Analysis Builder and let our media monitoring tool do the heavy lifting. You can take advantage of pre-defined Templates to automatically generate a range of visualizations suited to:
Brand Health Analysis
Competitive Analysis
Industry Analysis
Market Analysis
Social Media Analysis
Or you can build out a custom dashboard from a virtual buffet of visualizations spanning:
Coverage
Entities
Influence
Location
Sentiment
Source
Analysis of coverage over time, for example, shows a clear spike of coverage as the pandemic began and people began opting for delivery due to social distancing mandates.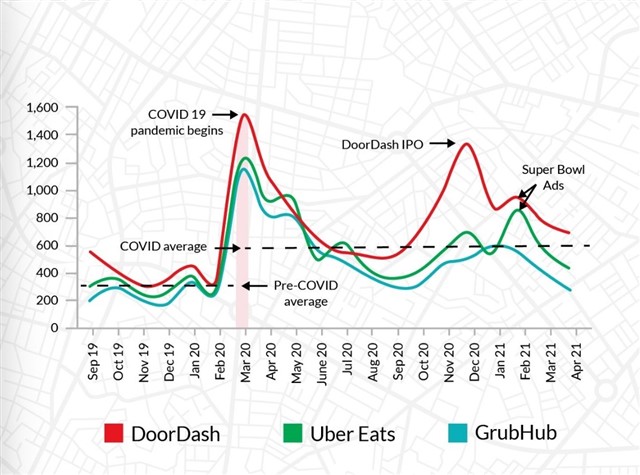 The big three food delivery apps also enjoyed sustained elevated coverage which has yet to return to pre-COVID numbers. What's more, the visualization makes it easy to identify events tied to spikes in coverage, helping brands understand the buzz—and value—of news mentions.
The MIRA team also discovered that while overall coverage rose, individually each brand saw a decrease in shares of headline mentions.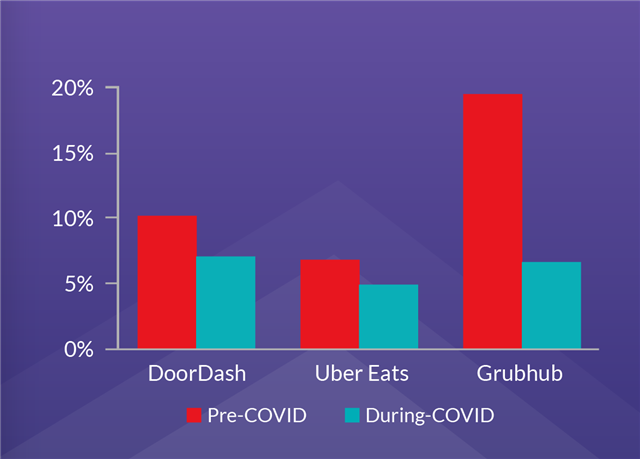 This reflects the reduced in-depth discussions during the pandemic. Fewer headline mentions also speaks to the overarching theme of "We're in this together" that many brands, as well as healthcare providers and government officials, messaged on throughout the hardest months of the pandemic.
Want to see the other tasty morsels the MIRA team discovered in their media monitoring and analysis?
Download the full infographic to explore our findings and see how the built-in analytics in Nexis Newsdesk help cut through the clutter and serve up easy-to-digest visualizations to make sense of traditional media coverage.